Volume 3: Take-home tailspin
UNREPORTED |
The government says help for the aviation sector is on deck. But when will it arrive?

With countries at varying stages of pandemic recovery and amid a second wave of the novel coronavirus in many regions, airlines are far from resuming regular service on international routes.
While the aviation industry is generally supportive of government measures to contain COVID-19, many of the country's 75,000 air transport workers are critical of efforts to stabilize an industry that's drastically cut capacity.
"A lot of pilots feel like we've been let down. Abandoned. They should have done more and didn't step up when it was time," said Michel Ste-Marie, a 41-year-old furloughed pilot who works at one of Canada's major carriers. 
So far, the federal government hasn't offered any industry-specific aid to Canadian carriers. According to Unifor, a union that represents a fifth of Canada's air travel workers, other airlines around the world have received US$120 billion in government loans and subsidies.
Air Transat captain Samy M'Seffar has tracked the financial aid handed to airlines in other countries. His findings appear to show Canada lagging behind. 
For its part, the federal government said it is "is actively working to put forward solutions that will provide the air sector with the support it needs." 
In a statement that acknowledges an "unprecedented situation," Transport Canada would not specify when help, if any, might arrive. 

"We have made it a priority to find solutions that will ensure [the] airline sector is on sound footing when the economy recovers. During this important recovery phase of the pandemic, any additional measures relating to air travel will be announced in due course," a ministry spokesperson said via e-mail. 
Lobby efforts have come from multiple sides, including unions, trade associations and staff on the sidelines who've mobilized on Facebook.
A petition with more than 12,000 signatures has outlined three specific measures that it would like the government to take. 
Critics argue that a blanket approach to managing the border isn't working and long, post-travel quarantine requirements aren't necessary in all situations. Instead, they'd like to see border procedures scaled back for arrivals from countries that have convincingly flattened the curve. 
A union coalition has created a website that calls for the government to implement, among other demands, a country classification system, rapid-testing and a ticket surcharge to cover testing costs.  
The industry is reiterating that message with a march to the foot of Parliament Hill today. 
Pilots in peril 
Airline employees who were furloughed have received subsidized wages through the Canada Emergency Wage Subsidy (CEWS). It's not their full compensation—leading many to find other sources of income to fill in the gap.
J., (name withheld), 30, a full-time employee at WestJet Encore since January 2019, was furloughed on May 1. Until the end of the month, he'll collect three-quarters of his eligible salary. After October, he'll receive $2,000 per month. (His base compensation is about $3,500 per month.)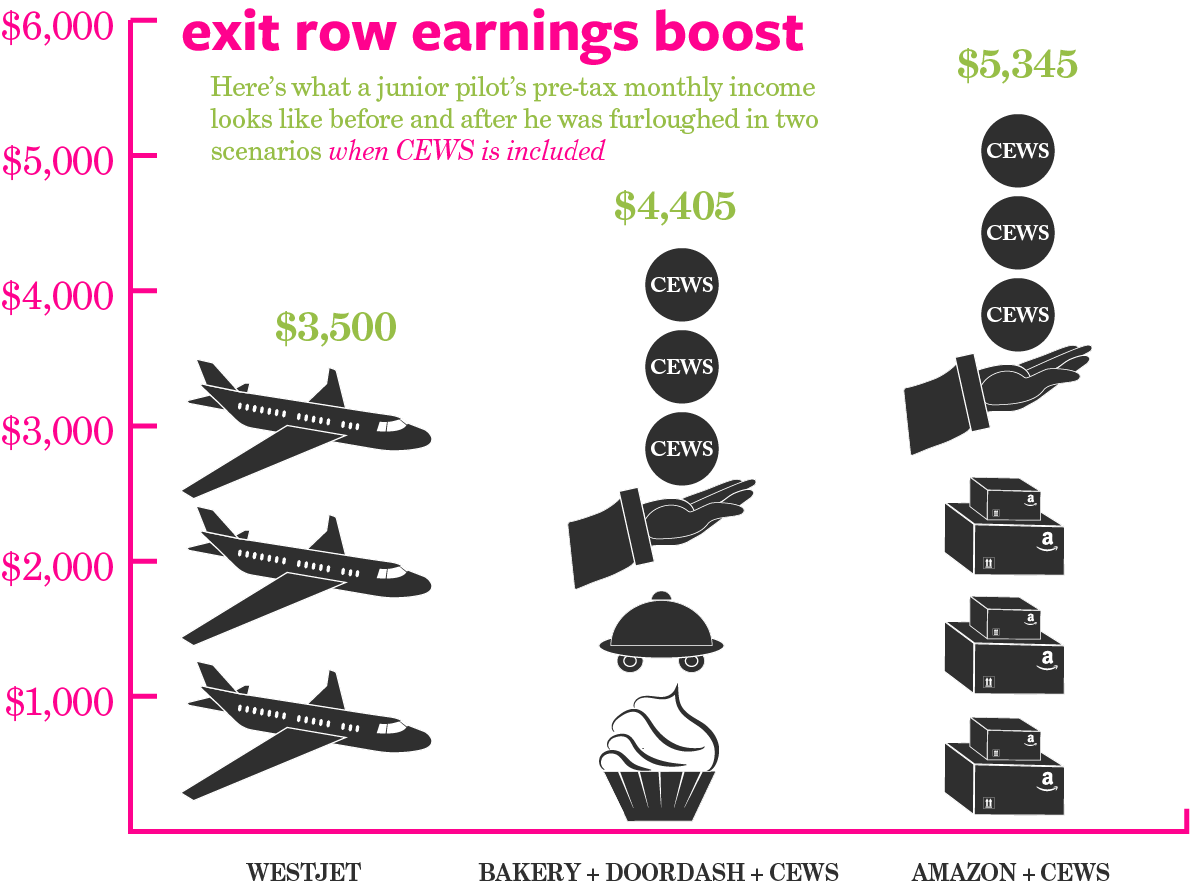 To make up for the lost wages, he worked as a delivery driver for Amazon, earning $170 per 10-hour shift on a four-to-five day work week. 
He's now working at a bakery that pays him $14.75/hr and occasionally delivers food with Door Dash, which puts an extra $150 in an average week into his pocket.
J. could renew his instructor rating at a cost as high as $3,000. But given that he's spent $100,000 in training costs, he's reluctant to leave the industry entirely even though he regards the prospects of returning in the next couple years as "very low." 
"The skill is non-transferable. What can I do if I'm not flying?"
In the meantime, he's looking for low-skill work that doesn't require additional certification. 
Similarly, Tod (last name withheld), 31, was furloughed from WestJet on May 1. As a first officer who'd served at the company since May 2018, he was on track to become a captain until the pandemic struck. Even though he also received CEWS-supported relief, he says the $17-18 hourly wage he makes through a temp agency driving a warehouse forklift isn't enough. 
"This is something that will get me through a couple more months. But then, I need to find something else or the government needs to help us," said Tod, who still has $40,000 in student loans to pay back.
Ste-Marie, a 20-year industry veteran who doesn't expect to be recalled at least until next April, is struggling to find employment that's on par with what an experienced pilot makes. "When you get to a certain level, it's a well-compensated trade. And I cannot replace that salary. It's impossible."
Unlike J., he has a seniority advantage. "Once things start picking up and recalls start to happen, I won't be too far behind," said Ste-Marie.
Canada's two biggest carriers, Air Canada and WestJet, have furloughed 600 and 700 pilots, respectfully. 
FEEDBACK
Thoughts on this report? Anything you'd like to see covered? Drop me a line: anwar@anwarali.com