Volume 2: Lights Out
UNREPORTED |
The pandemic is making Canada's pilot shortage worse
One of the economy's most direct and deeply-wounded casualties of the coronavirus pandemic is the aviation industry. Travel restrictions have caused a precipitous drop in demand that's led to route reductions, mass layoffs and much emptier airports.
While many sectors across the country begin to recover, aviation faces a long game. The industry has repeatedly warned about a pilot shortage. And while resolving it is not the most pressing concern while airlines adjust to operating at reduced capacity, the shortfall is quietly getting worse.
Flight schools, like many businesses, have since reopened after they were forced to close for several months. But as the chart below shows, they were on pace, at the end of July, to issue just a quarter of the licences that were handed out over the past five years.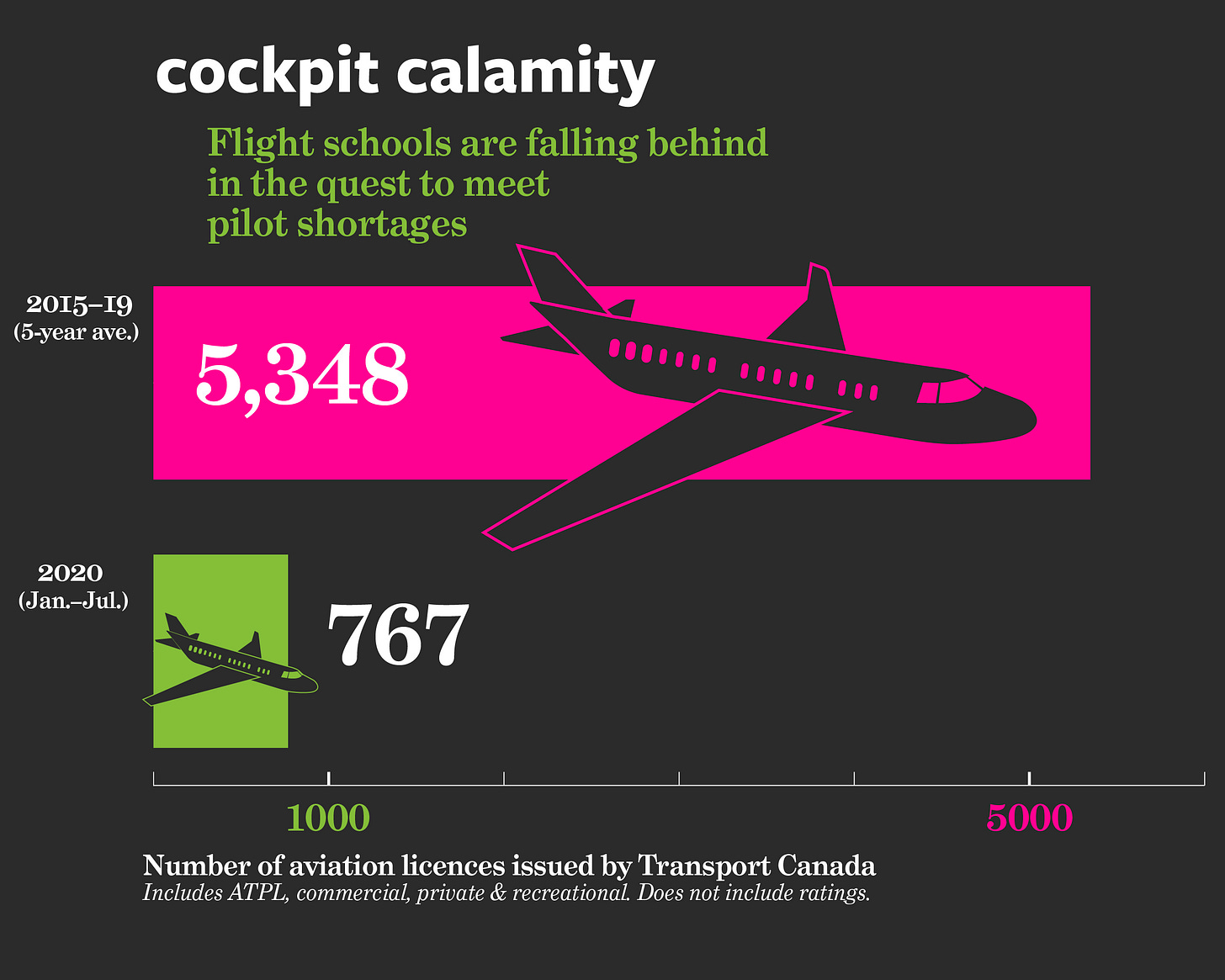 Cathy Press, co-chair of the British Columbia Aviation Council's flight training committee, says the industry is bracing for higher training costs. She points to insurance in particular, expected to rise as much as 30 per cent across the sector.
"There's a great instability," Press, also a BCAC board member and CEO of Chinook Helicopters, told me last week after a monthly meeting with aviation counterparts across the country. "We aren't as efficient as we were."
It would be logical to expect those costs to be passed onto students, who already face high tuition fees. While the federal government has examined solutions, they have yet to present a firm answer to industry calls to alleviate their loan burden.
Canada will need 7,300 new commercial pilots by 2025, according to the Canadian Press.

There are, however, encouraging developments. Flight schools will soon be allowed to resume hosting international students, who are a significant contributor to revenue, starting next week, provided that they have a "readiness plan" approved by their province.
THE ARCHIVE |
Lights out, conciencia robada
In 2001, I taught English at a K-12 school in Andrés Sanín, a marginalized neighbourhood in Cali, Colombia. I recall describing the school, Instituto Nuestra Señora de la Asunción, or INSA, as a diamond in the rough. It radiated with the warmth and potential of its students, many of whom arrived to class without food in their stomachs.
The families who lived in Andrés Sanín embodied that spirit, too. Yet, it wasn't the sort of place to wander alone at night or, sometimes, in the day, like a Saturday when I and a student witnessed an elderly couple get robbed from a car by an armed young man.
I'd always leave the neighbourhood before dusk. If I returned in the night to visit, a friend would wait to receive me as soon as I got off the bus. Yet, I always believed that I was protected there and no harm would come my way.
Andrés Sanín was a very real backdrop to the political transformation that was underfolding in Colombia.
---
March 17, 2002 Cali, Colombia (edited dispatch excerpt)
Last night, a few friends and I decided to go to an Irish pub to celebrate St. Patrick's Day. When we stopped for gas, there was a sudden blackout, including the street lights and all surrounding structures. After taking about 20 minutes to pay, we finally headed to the pub. It wasn't long before we realised that the entire city was dark. As we drove down the bar-laden 6th Avenue, people flooded into the street and to their cars, congesting the lanes.
On the radio we heard that not only was the entire city unplugged, except for some industrial plants, but 70 per cent of the country, too. Supposedly, the power outage was due to an electrical failure, but there's another familiar suspect: FARC. The night before, a priest was robbed and killed, yet another scar for a wounded nation.
About a month ago, more than 100 people were kidnapped from a Cali church by FARC guerillas. They hadn't ventured so far into the city for quite some time. The victims were apparently activists dedicated to helping families of, well, kidnapping victims. It's a reminder of the tragic reality that there are people in Colombia with a conscience to improve the country, but who are silenced for fear of retaliation.
---
Alvaro Uribe, who became president that year, took a hardline stance against the FARC (Fuerzas Armadas Revolucionarias de Colombia or Revolutionary Armed Forces of Colombia) during his tenure. Kidnappings and murders were common. FARC guerrillas encroached more than ever into urban territory. Uribe's predecessor, Andrés Pastrana, was unsuccessful with his efforts to broker a peace deal.
Uribe's crackdown—and, as would be seen years later, his indelible influence on Colombian politics—ultimately culminated with a peace deal in 2016 that he greatly influenced, even though years had passed since he was president. As a senator, a reprised role that bookended his presidency, he campaigned to successfully derail a deal by incumbent Juan Manuel Santos. Colombians voted against it in a referendum amid concern that it gave the FARC too many concessions.
The following month Santos, who would win the Nobel peace prize, and FARC leader Rodrigo Londoño signed a revised accord.
More recently, Uribe was under house arrest amid allegations that he tried to cover up ties to paramilitary groups during his time as state governor. He was released this weekend after a court ruled he could no longer be detained following his resignation from the Senate in August.
During Uribe's presidency, violence increasingly shifted from the hands from left-wing guerrillas to soldiers and allied paramilitary groups. It's believed that the number of FARC members killed was intentionally distorted to present a more victorious image. Investigators began to discover that many victims were actually civilians staged as guerillas, a controversy known as Falsos Positivos (False Positives).
FEEDBACK
Is there anything you'd like to know more about or see me report on? Comment or drop me a line: anwar@anwarali.com.